About Our Company
Welcome! Listen, we get questions of all types and we have athletes and organizers of all types. So in the spirit of trying to accommodate most tastes, we've provided a brief summary of what we do. There are bullet points for our busier athletes and full text for our athletes who are in the reading mood. If we could make our website talk, we would also offer a verbal summary for those who would rather not read at all, but alas, we cannot.
If you are interested in a specific service, please use the drop down menu underneath "Services" to narrow down your interest.
Company Structure
Two person company – Benji and Hope
Responsibilities we are hired for vary from event to event
Just to give you a little background on our company structure, we are a timing and production company comprised of two people – Benji and Hope. We do have part-time staff at some of our events depending on the size of the event and our level of responsibilities for that event. We are not involved with every single aspect of every event on our calendar. Our company is hired by different organizations, charities, community groups, etc. to help with their event in some capacity. What we provide for each event differs based on what the organization has hired us to do. For example, we may be hired solely to provide finish line timing and results by one group but another group may hire us to provide timing, course management, and help with planning. No matter what our level of involvement is, we are always here to answer questions about the event and if we can't answer your questions then we will put you in touch with the organizer who can help.
About Our Layout
For our start/finish line layout, we use a 26-foot inflatable arch. Mesh fencing designates the chute which helps guide athletes and keep the spectators at a safe distance.
For triathlons, our transition area contains aluminum bike racks that are individually numbered. This allows athletes to have a designated spot to rack their back and layout their race items. The numbered racks also allow for optimal spacing between racks ensuring the athletes have enough room. Rack rows are labeled, as well as each individual spot.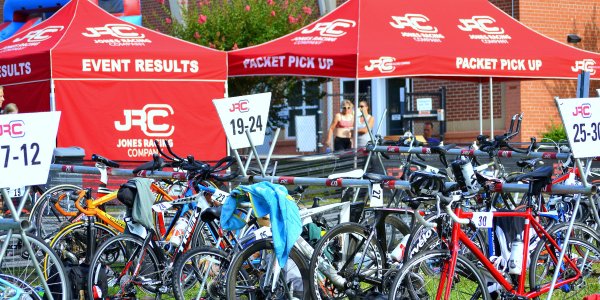 The entrances/exits to the transition area are designated by inflatable archways. These help guide athletes to proper leg of the race.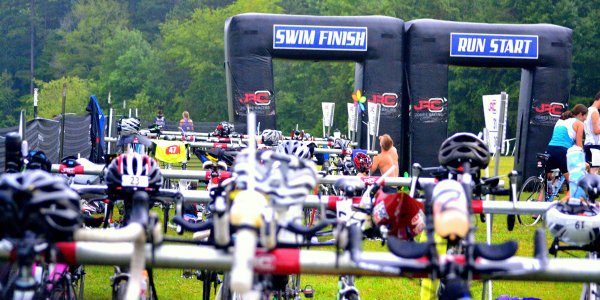 About Our Results
With the exception of a few events where our equipment (finish line arch, etc.) is being rented, we are typically hired to at minimum provide finish line timing and results. Our timing is one of our biggest strengths as a company. We are constantly looking for ways to improve what we offer, and we are always striving to get athletes results as quickly and as efficiently as possible.
QR Codes on run number for quick access to personalized results, can be scanned immediately after crossing finish line
TV screen scrolling results on site
Live results streaming to our website for most events
Opportunity to sign up for real time alerts of finish times and split times (when applicable)
For on site results, we have a large, flat screen TV scrolling the results (2 screens for larger events). Results on the screen update about every minute so athletes are able to see their times pretty quickly after crossing the finish line.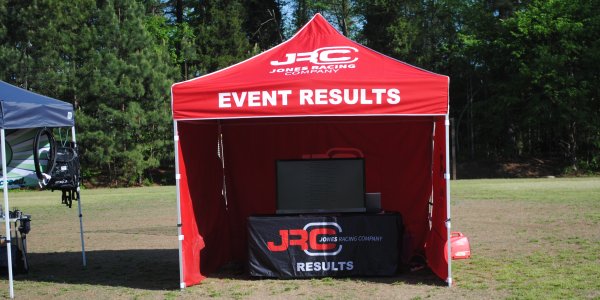 For many of our events, there are QR codes on the run number which will provide your finish times for you upon scanning. To use this feature, be sure you have a QR Code Scanner app on your phone (these apps are free). This is a really nice way to get your times without looking over anyone's shoulder.
For all of our triathlons in NC and many of our runs, we provide live results and real time alerts (text, email, Facebook, Twitter). Live results means that the results will be streaming onto our website so people who are either not at the event or are spectating can access results as they happen. The live results feed has a leader board feature as well as a searchable feature if you are looking for times for a specific athlete. You can also check age group and category placings on the live results feed. The real time alerts allow for athletes, friends, family to sign up for alerts. You can choose the medium (text, email, Facebook, Twitter) with which you want to receive the alerts, and when the athlete you are tracking crosses the finish line or various split points, you will receive an immediate notification. This is a fun feature for both spectators and athletes. It allows spectators to track the athlete's progress and it's a great way for an athlete to immediately get their results.
Example of Live Results webpage streaming results: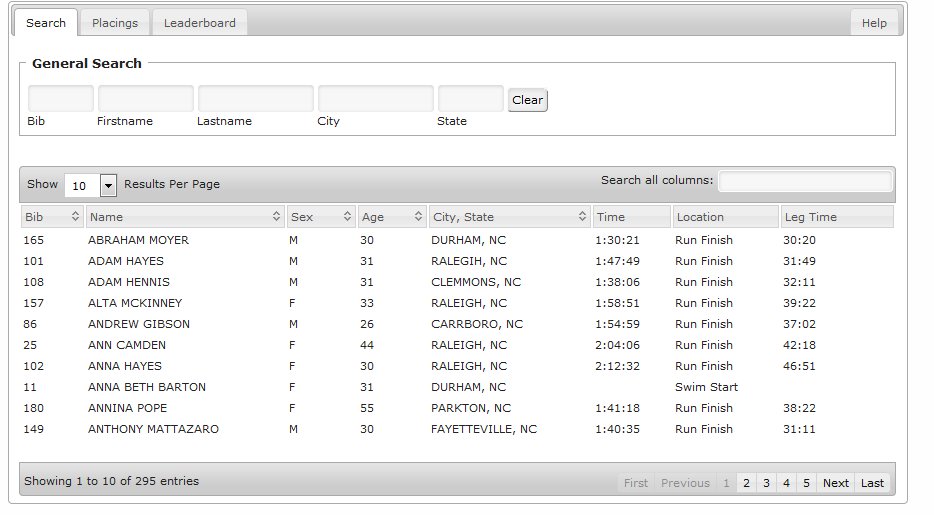 Full official results are posted on our 2015 Results Calendar within 1-2 hours of the last finisher crossing the line.
About Our Technology
Disposable Bibtags for Runs (chip on back of bib)
Non-disposable chip that is worn on ankle for Triathlons
For running events, we use Mylaps bibtag timing technology where the timing chip is attached to the back of the run number. This chip is lightweight and disposable. We always ask that athletes wear the number on the front of their body for the most accurate time read. Given that the chip is attached to the run number, the athlete has everything needed for the race when they pick up their packet, whether it is the day before or morning of the event.
For triathlons, we use a timing chip that gets worn around the ankle and is not disposable. Triathlon timing chips are designed to be submerged in water, so they are little more intricate in their design. These timing chips are collected from athletes at the end of the finish line chute. Given that these timing chips are not disposable and are expensive, they are only given out the morning of the event. Athletes are asked to bring their run number to the timing chip pick up tent in the morning where a volunteer will get the chip for them and help them put it on if needed.