QUICK LINKS
Our Sponsors
Presenting Sponsor:
Pilgrim Reformed Church
Platinum Sponsor:
Brookstone Retirement Center
Gold Sponsor:
Johnette Davis
Rev. Richard Moore
Silver Sponsors:
Dixon Hughes Goodman LLP
Edward Jones/47 Plaza Pkwy, Lexington, NC
Everhart Investments LLC
Gene & Lavon Edwards
Gene & Tina Poindexter
Hilltop Living Center
Interior Solutionz, Inc.
Jackie Farabee Bible Study
Jerry Hunt SuperCenter
Jim & Margaret Neese
Margaret & Steve Truell
Mary Ann Sowers
Mrs. Sylvia Stafford
Newsome Grading Company, LLC
Shuler Meats Inc.
Steve Shell
Bronze Sponsors:
B & L Insulation
Beck's Tool & Die Shop
Carter Pool Company
Conrad & Hinkle
Davidson Funeral Home
Davis Chevrolet
Doris Hedrick
Frankie Byrd
Hook & Ladder Properties, LLC
Hubert E. Olive, Jr.
Kevin & Jennifer Firquin
LMI Builders, Inc.
Lanier Hardware, Inc.
Martha Clodfelter
Mountcastle Insurance
North State Machine, Inc.
Old Honda Parts
Pilgrim Reformed Church Quilting Sisters
Rives & Associates LLP
Sam & Karen Watford
Sarah C. Ward
Sim & Marie Siceloff
Todco Inc.
Y & Y Hardwoods LLC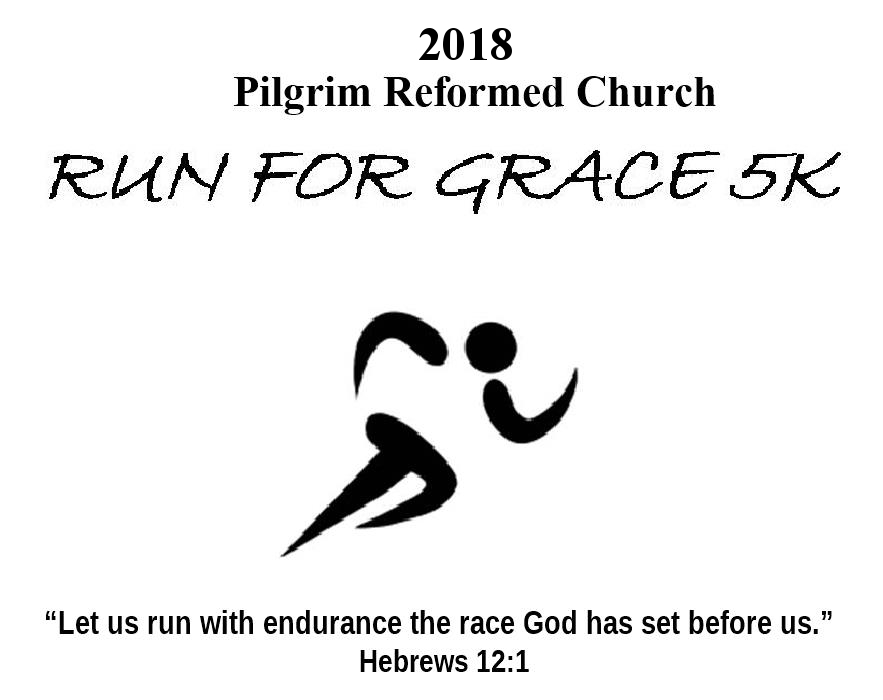 Date: Saturday, August 11, 2018
Location: Lexington, NC
Race Start Time: 8:00 AM
Race Distance: 5K
Registration Closes: Thursday, August 9 at 8:30 am
Important Details
Race Description
3rd Annual Run For Grace 5k hosted by Pilgrim Reformed Church in Lexington, NC. Funds raised by this event will financially aid the Workshop of Davidson in Lexington.
The Workshop of Davidson is a place where individuals with intellectual and developmental disabilities can work, gain vocational and life skill training, interact with their peers and integrate into the community and most importantly, have the opportunity to reach their highest potential. The Workshop focuses on "ability" and not necessarily, the disability. Program participants are given the chance to not only grow but to flourish as a human being.
Walking or running strollers are allowed but must not be in front of running participants at the start of the race. No animals allowed. Children under 13 years of age must be accompanied/supervised by an adult.
Race results will be posted electronically after each participant crosses the finish line. Light refreshments will be available to race participants at completion of event.
For more information, please contact Tina Poindexter @ 336-247-1078 or Tammy Allen @ 336-596-6695 or Rev. Richard Moore 336-425-5610
Entry Fees
5K

**Race shirt not guaranteed after 7/31**
Packet Pickup
Friday, August 10
5:00 PM – 8:00 PM
@ Pilgrim Reformed Church
797 Pilgrim Church Road
Lexington, NC 27295
Saturday, August 11
7:00 AM – 7:45 AM
@ Pilgrim Reformed Church
797 Pilgrim Church Road
Lexington, NC 27295
Schedule
7:00am: Race Day Registration Opens/Packet Pick Up
7:45am: Registration Closes
8:00am: 5K Starts
9:15am: Projected awards ceremony (will be adjusted based on last finisher's time)
Also parking will be available both onsite and offsite (if necessary). There should be enough onsite parking to handle the event but we will have offsite available it needed.

Timing/Awards
Top 3 in each of the following categories:

Top 1 M/F Overall
Top 3 M/F 1-14, 15-19, 20-29, 30-39, 40-49, 50-59, 60+
Policies and Refunds
REFUND POLICY: Entries are non-refundable and cannot be transferred from person to person.