QUICK LINKS
OUR SPONSORS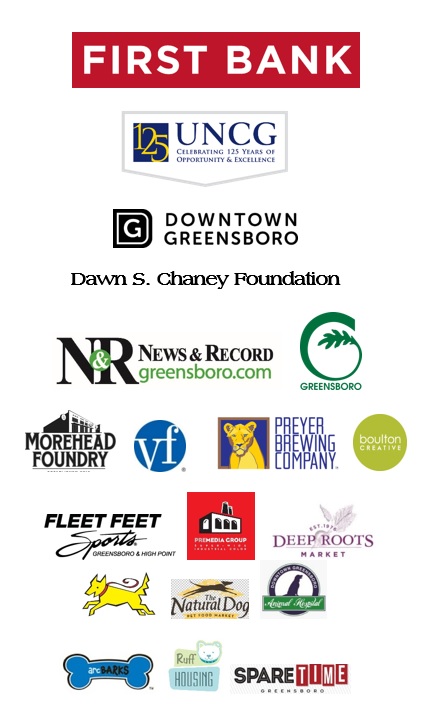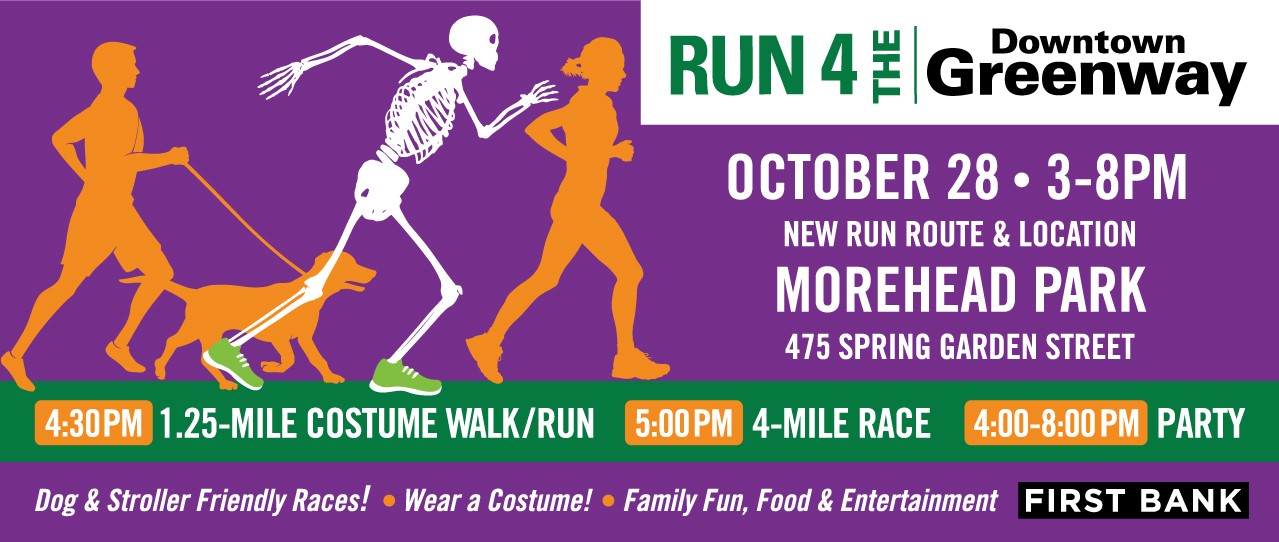 Date: Saturday, October 27, 2018
Location: Greensboro, NC/Downtown Greenway at Morehead Park (475 Spring Garden Street)
Race Start Time: 4:30PM (1.25 Mile) 5:00PM (4 Mile)
Race Distance: 4 Mile & 1.25 Mile
Registration Closes: Friday, October 26 at 9:00 am
Important Details
Race Description
The #Run4Greenway is an event to raise awareness about the Downtown Greenway, be a fundraiser for the Downtown Greenway and provide a fun-filled evening for the whole family. It consists of a 4 mile run, 1.25 mile walk/run, and a big party in Morehead Park/Morehead Foundry located on the Downtown Greenway at 475 Spring Garden Street with live entertainment, food, and activities for adults and children. We are partnering with UNCG for their 125th Anniversary—hence the 1.25 mile run along Spring Garden Street to the UNCG Campus! New this year: Costume contest for kids, dogs and adults!
The Downtown Greenway is a planned 4 mile walking and biking trail that will enhance and define downtown Greensboro. This project will enhance the urban landscape with a green space that will encourage economic development, promote fitness, inspire alternative transportation, and provide connections between Greensboro neighborhood residents around the city. The proceeds from the Run 4 the Greenway will go towards construction and maintenance to supplement the City's maintenance of the Downtown Greenway upon completion.
Entry Fees
4 Mile Run (includes tshirt and beverage coupon)
$25.00 Until October 15 at 11:59pm
$20.00 for students until October 15 (at 11:59 pm)
$30.00 October 16 – October 25 (9pm)
$35.00Race Day
$80.00 4 Mile Family 4 pack
$20.00 Student Rate
1.25 Mile Run (includes tshirt and beverage coupon – NOT TIMED)
$15.00 Non-Student
$10.00 Students
$20.00 Dog Registration
$50.00 1.25 Mile Family 4 pack
Kids 6 and Under FREE
Packet Pickup
Saturday, October 28
3:00 PM – 4:00 PM
@ Downtown Greenway/Morehead Park
475 Spring Garden Street
Greensboro, NC
Schedule
3:00 PM – 4:00 PM – On-site Registration & Packet Pick Up at Downtown Greenway/Morehead Park
4:30 PM – 1.25 Mile Walk begins
5:00 PM – 4 Mile event begins
5:45-6:15 PM – Projected awards ceremony (will be adjusted based on last finisher's time)
3:00 PM – 7:30 PM– Music, Entertainment, Food at Downtown Greenway/Morehead Park
Timing/Awards
This event will be timed using a bibtag timing chips. The timing chip will be on the back of the run number. This will not need to be turned back in after the race – it is disposable. It will be a chip time start. That means your time will not start until you reach the start timing mat. Make sure your number is clearly visible on the front of your body. Chip Time is the time your chip crossed the start timing mat. The awards for this event are based on Chip Time.
Awards are for the 4 mile run
Top 3 in each of the following categories:

Top 3 M/F Overall
Top 3 M/F Masters Overall
Top 3 Age Groups (M/F):1-12, 13-19, 20-29, 30-39, 40-49, 50-59, 60+
Parking Information
On street parking is available on Spring Garden Street and Blandwood Avenue. Additional parking is available at Morgan Support Services at 500 Spring Garden Street and in Guilford County Schools Parking Lots at 500 West Washington Street between Freeman Mill Road and Spring Street. If parking in the GCS lots, please cross Spring Street at light at Washington/Spring Streets to Weaver Academy and use side walk to Spring Garden Street to get to event.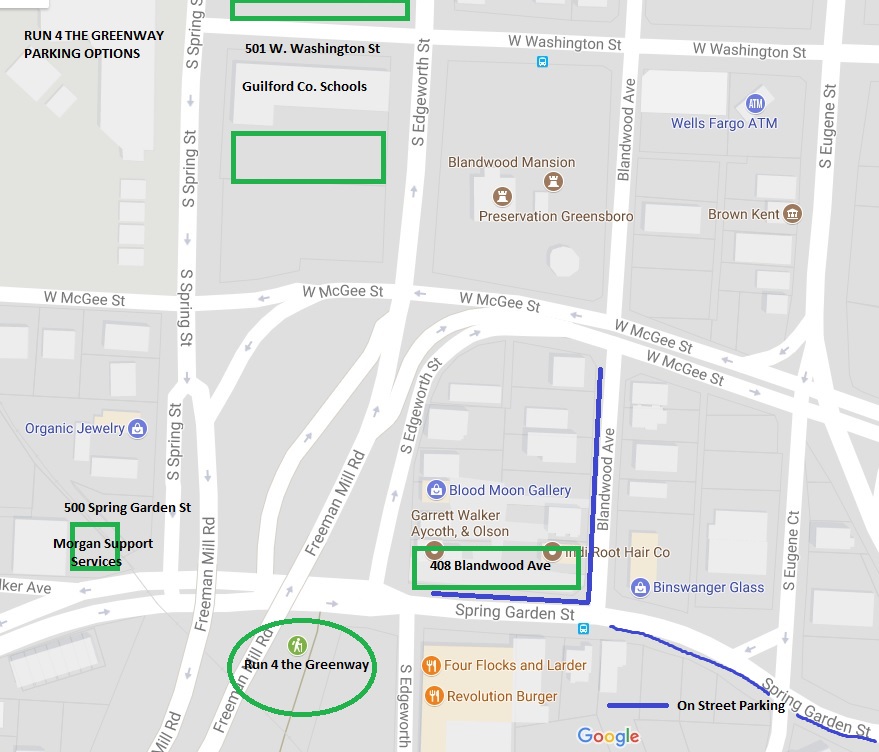 Thank you to our sponsors!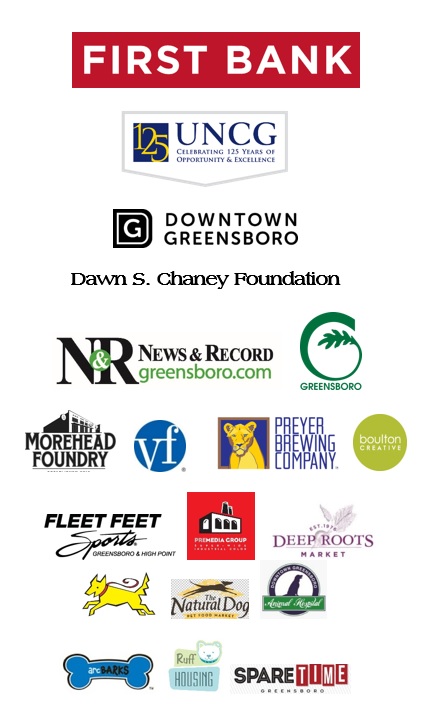 For more information, contact Race Director, Laura Lorenz at llorenz@actiongreensboro.org or 336.387.8355 or cell 336.457.7156 or Dabney Sanders 336.402.0386 or Benji Jones 336.471.3322

Policies and Refunds
REFUND POLICY: Entries are non-refundable and cannot be transferred from person to person.

Thank you to our sponsors!