QUICK LINKS
Our Sponsors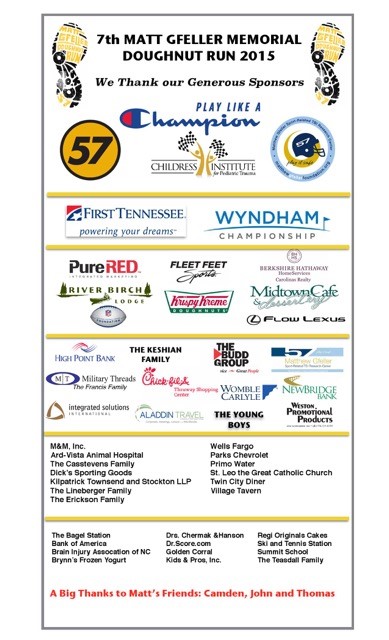 Benefiting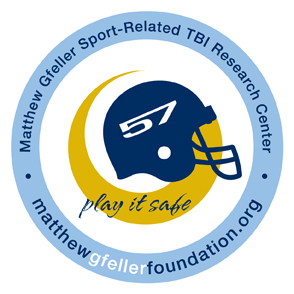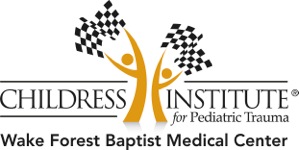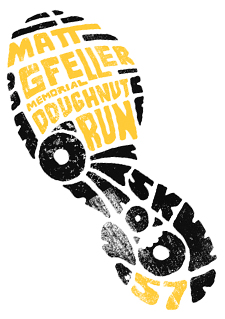 Date: Saturday, November 12, 2016
Location: Winston-Salem, NC
Start Time: 9:00 AM
DOUGH Category: Run/walk halfway, eat 6 doughnuts and run back!
NO DOUGH Category: Run/walk with or without doughnuts!
Distance: 5K
Online Registration Closes: Thursday, November 10 at 9:00 am
THIS IS THE FINAL YEAR FOR THE MATT GFELLER MEMORIAL DOUGHNUT RUN

HELP US REACH 1,000 RUNNERS FOR 2016 AND GO OUT WITH A BANG!!

Runners Registered as of right now is 770

Come on, register and help us reach our goal!! Tell your friends too!!

Information
The 8th Annual Matt Gfeller Memorial Doughnut Run is a lighthearted 5K run or walk for the entire community. Join us to help reach three goals:
1. Remember Matt

Fifteen-year-old Matt was a competitive athlete, talented performer and connoisseur of tasty food. To honor Matt, his three best friends (John Lineberger, Camden Francis and Thomas Keshian) decided on this crazy event involving running, live music and Krispy Kreme doughnuts. Matt's schools – Reynolds High, Summit School and Whitaker Elementary – each play a role. Matt had a big, fun personality and he would have loved all this!


2. Raise Money for Traumatic Brain Injury Research

Thanks to the generous corporate sponsors who pay the race costs, all entry fees will go to the Matthew Gfeller Foundation to support brain trauma research at the Childress Institute for Pediatric Trauma at Wake Forest Baptist Medical Center and the Matthew Gfeller Sports Related Traumatic Brain Injury Research Center at UNC-Chapel Hill.


3. Bring our community together

This is a 5K for all ages and abilities – from competitive runners to neighborhood walkers. Reynolds students provide music along the beautiful course, and Summit students staff the half-way point (Whitaker Elementary School), where Krispy Kreme doughnuts and water are set up. There are two participant categories: Dough Runners must eat a half-dozen doughnuts at the half-way point; No Dough runners or walkers can eat less or none or all – your choice. It is lots of fun and there are refreshments at Reynolds after the race. Awards for Top 3 men and women by age group for both Dough and No Dough Runners.

Entry Fees
Adults
$25 Before November 1
$30 November 1 – Race Day
Students – High School and Under
$20 Before November 1
$30 November 1 – Race Day
Sleep 'n Support (non runner/walker) – Just Supporting TBI Research – $30.00

Packet Pickup
Thursday, November 10
3:30pm-5:30pm
@ Reynolds High School, in front of Arts Building
301 Hawthorne Road
Winston-Salem, NC
Friday, November 11
3:30pm-5:30pm
@ Reynolds High School, in front of Arts Building
301 Hawthorne Road
Winston-Salem, NC

Saturday, November 12
7:30am-8:30am
@ Reynolds High School, in front of Arts Building
301 Hawthorne Road
Winston-Salem, NC

Schedule
7:30 AM – Race day registration opens
8:30 AM – Race day registration closes
9:00 AM – Race Starts
10:30 AM – Projected awards ceremony (will be adjusted based on last finisher's time)
Timing/Awards
This event will be timed using a bibtag timing chips. The timing chip will be on the back of the run number. This will not need to be turned back in after the race – it is disposable. It will be a chip time start. That means your time will not start until you reach the start timing mat. Make sure your number is clearly visible on the front of your body. Chip Time is the time your chip crossed the start timing mat. The awards for this event are based on Chip Time.
Top 3 in each of the following categories:

Top 3 M/F Dough
Top 3 M/F No Dough
Top 3 M/F (Dough and No Dough) 14 & Under, 15-19, 20-29, 30-39, 40-49, 50-59, 60+
Youngest Dough Runner
Oldest Dough Runner
Parking Information
Parking is well marked and directed to all lots surrounding the school. Additional on-street parking is also available on nearby streets.
Shirts are short sleeve Champion shirts.
We love our volunteers! Without you guys, the events would not be possible. Anyone interested in volunteering please fill out this form and indicate the times you are available to help. Thank you!
Policies and Refunds
REFUND POLICY: Entries are non-refundable and cannot be transferred from person to person.