The Jones Story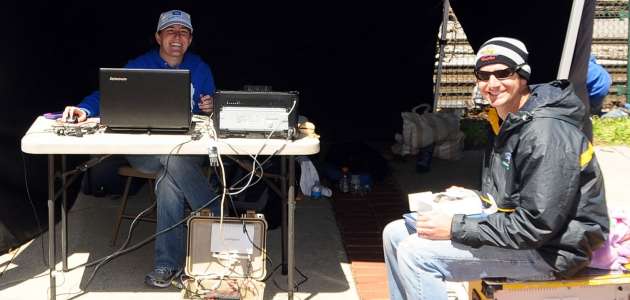 Hi! Thanks for stopping by and checking us out. We know you are dying to know more about us and how/why we do what we do, so here it is. We began directing, managing, and timing events in 2007. We started with a few local 5Ks and 10Ks, and then began producing and timing triathlons in 2008. In 2013 alone, we had over 70 events on our calendar. Yes, you read that right. Who needs a weekend life when you can spend your weekends in beautiful venues with fabulous people?!
We have two awesomely hilarious kids, Landon (6) and Camryn (5) who think that every weekend is a vacation. We are savoring this age of our kids because we know at some point the kids are going to want to do something on the weekend that does not involve spending every second with Mom and Dad, as awesome as we are.
Originally from Louisiana, we were both Division 1 college athletes. Benji ran track and cross country, with the 800m being his main event, and I (Hope) played soccer. Benji was so impressed with my mad soccer skills that he immediately knew he had to marry me. Benji actually produced his first event, a duathlon, while in graduate school in Louisiana and that is where the passion for event production was born. I, of course, had no idea that his passion would turn into my passion, otherwise it's possible we would have saved a large amount of money on student loans, as we moved to North Carolina in 2004 for me to attend graduate school and earn two Master's degrees, one in Sport Psychology and one in Counseling.
In all seriousness, the biggest reason we do what we do is to serve people and provide a great experience that will stay with our athletes forever. We treasure our relationships with our event organizers and truly enjoy being a part of so many events that give back to the community, special causes, and the athletes. Benji's favorite part of every event is when he is driving away from the race site after everything is all packed up, and it looks like no one was ever there. We show up, create the experience, then the experience leaves with each person.